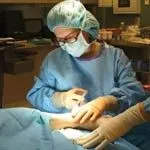 A podiatrist, or Doctor of Podiatric Medicine (D.P.M.), is a specialist responsible for the diagnosis, prevention and treatment of foot, ankle and leg disorders. D.P.M.'s, like most physicians, go through 8-12 years of preparation for their profession. After completing the standard pre-medical requirements, D.P.M.'s attend a 4-year college of podiatric medicine. Additional training in medicine and surgery are obtained through residencies and fellowships in various hospitals throughout the country.
The D.P.M. usually obtains a brief medical history and conducts a thorough examination of the patient's feet and legs, ordering x-rays and lab tests when needed. Treatment may include instructions on proper foot care and shoe selection, removal of calluses, physical therapy, medication, orthotics (shoe inserts constructed from a cast), or surgery. Some of the more common disorders seen in a podiatrist's office are fractures, sprains, infections, arch and heel problems, tumors, foot and leg ulcers, nail
disorders, and foot deformities (e.g., hammertoes and bunions). Also treated are foot problems of children, the elderly, and those suffering from diabetes, arthritis or sports related injuries.